The Daniel Di Paolo Collection
The Daniel Di Paolo Collection
Welcome, come and share in Daniel's passion for Classic Espresso Machines.

Daniel Di Paolo has been collecting Italian espresso machines for many years from all over world. The fascination with espresso machines began 10 years ago. Driving one night in a street of Melbourne he noticed a blue fluorescent light shining through a window on a machine. Not knowing what it was, he returned to the shop window and realized it was an espresso machine. The machine was a sight to be seen. It was fully chromed with brass components. Two old style lever handles, spectacular design and the glow of the light from the front of the machine which displayed the manufacturers logo; left Daniel in complete awe of the machine... The next day he approached the owner of the shop to see if it was for sale. Everything is for sale, but on this occasion the machine belonged to Frank Berra of Coffee Mio and therefore no amount of money could ever buy the machine. The machine had too much sentimental value. Frank's comment was not only that it wasn't for sale, but Daniel would never find one. The quest began from there.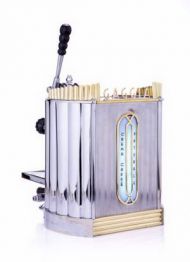 Faced with the challenge of finding another machine the collection has grown to over 80 machines. The design that has glamorized the style of the machines has been made famous by renowned architects such as Gio Ponti, Bruno Mazzari and many others. It has therefore been a passion of Daniel's to own all the different designs that have been incorporated in the machines in his collection. The most prominent machines were made by Gaggia and Faema, but other brands such as La Pavoni, La Cimbali, La San Marco, La Dorio, La Carimali, La Haiti, La Eureka, La Brugnetti and La Bezzera were widely sought after. Bring back an era of beauty and craftmanship rarely seen in this modern day.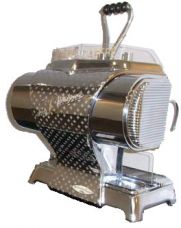 My collection would have to be one of the biggest in the southern hemisphere. I have a profound passion for these machines. The design and craftsmanship that went into to building these machines is fascinating. When viewing these machines, it is possible to see the resemblance of a lot of items that were produced in the fifties era. For instance the Gaggia international was based on the back end of a Caddillac, the Faema Marte resembles the front grill of a Buick and the Cimbali Gran Luce has such a retro look that it resembles a juke box. They are basically made from solid brass and hence the reason for so few machines to be in existence. With the introduction of semi-automatic machines in the mid to late sixties, these fifties machines were sold for scrap because of the high brass content. A two lever machine weighed approximately 60kg therefore it was worth scrapping.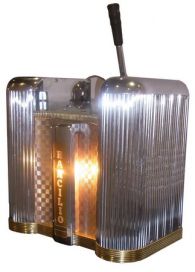 Thousands of machines hit the junk heap. The machines were produced with multiple levers ranging from 1 to 6 levers, depending on the size of the cafe bar. The most sought after machines are those of 1 lever and any number greater than 4. This is based on production numbers, ie. there were very few one group machines produced because they couldn't keep up with the demand of supplying enough espresso's to patrons of a cafe, therefore one group machines were probably supplied to the small remote villages located in the European mountains. As for a 4 group machine, the espresso bar would have to be a centre point of a large city in order to justify such a big machine. Again there were so few bars in Italy that could boast such a large patronage. The most common machines are 2 and 3 group levers. I gain a lot of satisfaction in restoring these machines and often after a machine is completed find it difficult to part with, even if I have multiples. I am willing to assist people in anyway possible whether it be valuing, restoring, buying or selling a machine. I have travelled the world to find such machines, including South America most of Europe and the USA.
Unsurpassed Restorations
Daniel has been restoring antique espresso machines for more than 10 years. His attention to detail and asprirations to achieve true original form, make his work speak for itself.

Nowadays, these machines are collected and restored to their original state and are then either reserved, for Daniel's own personal collection, or sold. The collection would be one of the biggest in the world.
Beauty in the Home, or Business
Why not bring a beautiful Italian into your home or business? A centerpiece, a work of art, that also delivers that unique traditional flavour of the espresso made in Italy.