Classic Espresso Machines
Espresso Machine Classics is all about sharing the beauty and craftsmanship of these vintage espresso machines with the world. Please contact me if you would like to host an exhibition of these rare vintage espresso makers in your area.

Considering buying a vintage Gaggia or a classic Faema for your own home or business? Well look no further that Daniel Di Paolo's collection. You can buy any machine in the collection, we just ask that you do your homework, then make a reasonable offer. There are many classic espresso machines available with a starting price of AU $5,000, for your basic machine.
Classic Espresso Machines - Timeline
1884 - Moriondo - New steam machinery for the economic ...
1901 - Bezzara - Tipo Gigante
1905 - La Pavoni - Ideale
1948 - Gaggia - Classica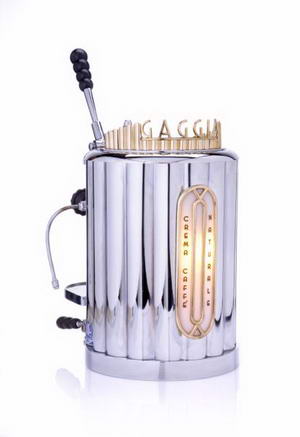 1950 - Gaggia - Esportazione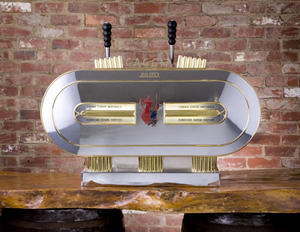 This 2 group model was exported world wide, often referred to as the sardine can because of its shape. There are very few of the 1 group model in existence, because of the low production numbers. This is one of the first Gaggia machines ever made.
1950 - La San Marco - Lollobrigida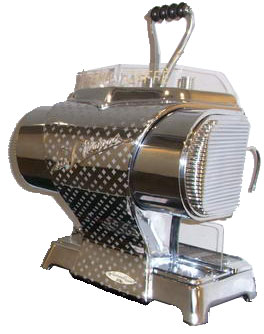 This classic espresso machine was named after the famous actress gina Lollabrigida because of its vivacious curves, the machine is highly sought after given its unique design.
1952 - Faema - Marte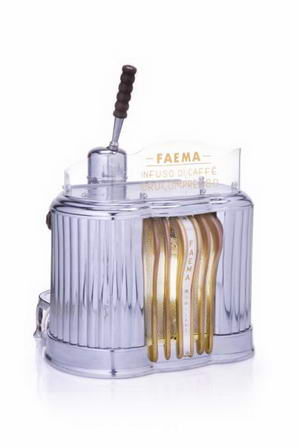 The Faema Marte was named after the planet Mars, the design was based on the front grill of a 1950's buick.
1952 - Carimali - Murano Crystal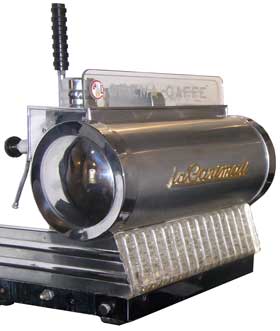 Made from the famous murano crystal produced in venice the machine is very unique in design.
1952 - Gaggia - Spagna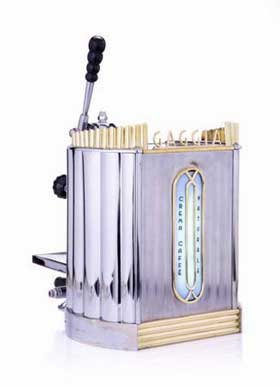 The machine was bought in venezula , South Amercia. often called the luxurious model because of the gold trimmings.
1953 - La San Marco - Disco Volante
1955 - Rancillio - Preziosa
Very few in existence because of low production numbers. This one was found here in Melbourne.
1955 - Gaggia - Internazionale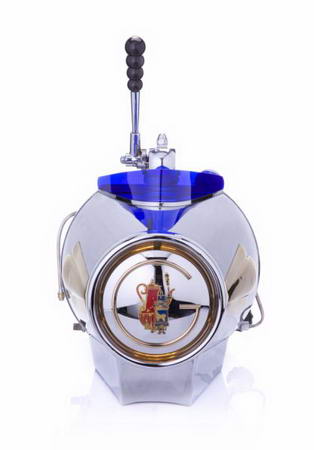 This is the Gaggia International 1 group, only 50 ever made and probably 10 in existence in the world. Highly sought after.
1955 - Astoria - Eureka
This machine was brought to Australia and operated in a cafe in Cooma, supplying espresso coffee to the European migrants working on the Snowy Mountain Scheme.
1955 - Brugnetti - Aurora
Bought at a flea market in the north of italy.
1956 - La Pavoni - Concorso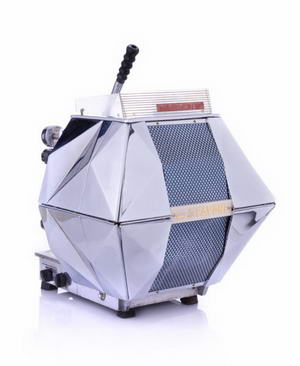 One of the most collectible machines notably because of its design and the relation the famous architect Gio Ponti had with the pavoni company.
1957 - Sputnik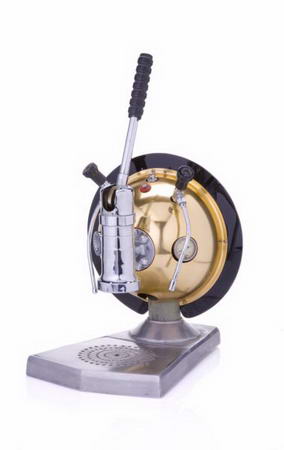 This machine was originally named fiesta but because of its unusual shape was later changed to Sputnik. It was originally produced for the golden fleece petrol stations. Only 50 were ever made.

1957 - Gaggia - Montecarlo
1958 - Cimbali - Gran Luce
1959 - Gaggia - America
1962 - Faema -Venere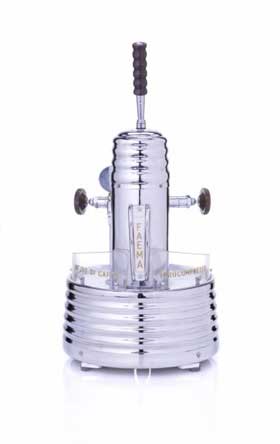 Named after the planet Venus, there were very few ever made, it was more of a domestic machine. In existence, only 5 left in the world.